Social events archive
Back to Social events
Thurs 14th April: Dawlish Walkabout ahead of Branch Meeting
Meet about 4pm at The Swan and then work our way back to the Brunswick Arms for 7pm

Sat 9th April: Bristol: Clifton, Redlands, Kingsdown etc. areas.
Provisional plan is 9.52 train from St Davids to Temple Meads
and then train to Clifton Down.
Bristol Itinerary

Weds 30th March: JDW The Imperial, Exeter, 11:00
for start of Wetherspoons National Beer Festival. Runs to 12th April.

Fri 1st April: Thatched House, Exwick, Alepril Fool Beer Festival.
Runs over the weekend. Opening times TBC.
Thatched House
Alepril Beer List

Sat 26th March: Buses to Tiverton.
10.30am Bus55 from Exeter Bus Station - arrive Tiverton 11.07

Tues 22nd March, 7pm, Sawyer's Arms
in Cowick Street for 'Tap Takeover' featuring Otter Ales.
4 Otter beers are on tap and nibbles will be provided.

Sat 19th March: Bus tour to Ottery St.Mary.
Start Exeter Bus Station for 11.40 #4A bus to Clyst Honiton.
12.40 Leave Clyst Honiton on #4 bus.
1.04 Arrive Ottery St.Mary.
Visit Volunteer, Lamb & Flag (if open), Kings Head, London Inn in that order.
Leave maybe 4.06 and possibly stop on journey at Cranbrook or other.

Thurs 17th March 12:00: Butterleigh Inn
for presentation of certificate for 35 years in the GBG. Travel by car.

Sat 12th March: POTY Minibus tour of the 5 category winners of our Pub of the Year.
Presentations of certificates at 4 of them. Minibus full but people living near the
5 locations are encouraged to join us.
Approximate times:
Axminster Inn 11am;
Bridge Inn 12.30;
Beer Engine 1.45;
Thatched House 3.00;
Bicton Inn 4.15

Sat 12th March: Also on this date the North Devon Camra visit to Exeter Brewery.

Thursday 3rd March
Tour of Sidmouth Start 12 noon at the Anchor.

Saturday 26th Feb
Tour of Heavitree Start 11am Georges Meeting House for breakfast and progressing
via the Cosy Club and Mount Radford to the delights of Heavitree.

23rd-25th February or until sold out, Ales in the Orangery
The Imperial, Exeter


Sat 19th Feb Camra Regional Meeting hosted by us at Great Western Hotel Exeter.
Limited attendance but a tour of Exeter pubs will be arranged.


Sat 5th Feb FOWA Workers Reward trip to Dorchester Beerex.
Martyn is running a Coach to the West Dorset CAMRA Dorchester Beerex 2022
for the Saturday 11am-4pm timed no-music session.
The Festival is at the Dorchester Corn Exchange:
http://www.camrawdorset.org.uk/Beerex.htm
http://beerex.co.uk/

There'll be seating for 100 upstairs and they plan to have up to 80 beers and
around 21 ciders.

This is primarily a 'Workers' Reward' trip for volunteers at our own Festival of
Winter Ales held last weekend, but is open to all branch members and their friends/partners.

Costs are £10 for coach (free to FOWA qualifying workers) and £10 ticket which includes
2 beer tokens with an extra 2 for members.

Pickups planned are as follows:
Coach 8.30am St.Davids , 8.40 Heavitree Texaaco (now BP?), 9.10 Honiton opposite the Holt.
There may be a pit stop at a local hostelry in the Axminster area, on the way back.

If interested, please contact Martyn as soon as possible, at
ku.gro.armac.retexe@ceslaicos


Wed 9th Feb Bristol Beeriodical. Start at the Seven Stars at 12 noon.


Weds 26th Jan 7pm. Good Beer Guide 2023 selection meeting will be held at the
Bridge Inn, Topsham. Places need to be booked as there is limited capacity.
Please inform me asap if you wish to attend.


Sat 8th Jan. 2022 Exmouth Exploration
20-odd pubs available!
Start at Holly Tree, 12:00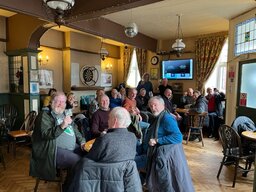 Tues 28th Dec. Barbican Bimble
Due to the current situation, this event has been postponed until
later in the new year (Date TBC). Please check back later for updates.
Join members from Plymouth, Cornwall and other Devon Branches for
the Christmas Barbican Bimble, in and around the Barbican area of Plymouth.
Starting around 1200-ish. Outline details can be found at:
https://plymouth.camra.org.uk/viewnode.php?id=148601
Full details nearer the time.
Please note: some premises may require evidence of
Covid vaccination status, for entry.
NHS COVID Pass info

Wed 22nd Dec. 7pm Pre-Christmas drinks social at the Bridge Inn, Topsham.
This is strictly BOOKING ESSENTIAL as we will we have exclusive use of
The Malthouse (with its present capacity limit of 34) but the outside area is otherwise open as normal
Names to Martyn, first come, first served. Update: Now fully subscribed, indoors.

Sat 18th Dec. Exeter Half-Pint Half-Marathon:
'13 halves in 13 pubs' all to promote our Festival of Winter Ales.
Marathon Itinerary

Tues 14th Dec.  Imperial, Exeter.
PAWS (Pensioners' and Workers' Social) Lunch.
NB: This also the first day of the Imperial-e Festiv-Ale Christmas Ale festival
(up to 20 winter ales available). Festiv-Ale Beer List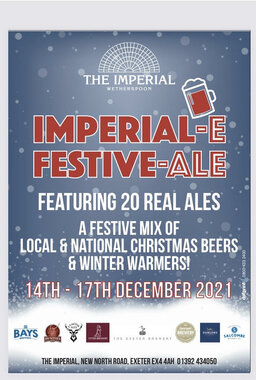 Sat 11th Dec.  Tom Cobley at Spreyton for Christmas lunch. Meal £17 pp. Names please to Martyn.
Coach booked - price depends on uptake. Usual pick-ups i.e. Honiton, Exmouth, Exeter, Crediton etc.

Sat 27th Nov. Train to Okehampton, to mark the reopening (currently scheduled
for 20th November) of the 'The Dartmoor Line', where after nearly 50 years, daily
passenger rail services are returning to Okehampton. https://dartmoorline.com/
10.36 train from St. Davids - arr. Okehampton 11.18.
1st stop: White Hart (JD Wetherspoon)

Tues 16th Nov. Meet the Brewer: Bays Brewery
The Sawyer's Arms (JDW), Cowick Street, Exeter. 18:00
For more information about the pub, please see:
https://whatpub.com/pubs/EXE/250/sawyers-arms-exeter

Weds 20th Oct.   12:00 Imperial, Exeter for first day of Wetherspoons Beer Festival.

Sat 23rd Oct.      11:00 Tour of Crediton starting at the Redvers Buller for a breakfast
and ending at the newly reopened Crediton Inn.

Sat 6th Nov.    N. Devon CAMRA tour of Porlock by service bus. Refer to Martyn (Social Sec.) for details.

Back to Social events