FOWA 2022 Review
Exeter & East Devon CAMRA
Festival of Winter Ales (FOWA) 2022
Fri-Sat 21st-22nd January 2022, 11am - 11pm
Exeter City Football Club


A very big thanks to all volunteers who worked at the Festival of Winter Ales.
Also a thanks to the customers who attended. In addition to those who live in the
south west region we saw visitors from as far afield as Cardiff, London, Derby, and Birmingham.

The feedback we have received so far has been very positive and it is always a pleasure when you
get people you don't know approach you and say how great it is and how brave we were for
putting on the festival. Hopefully it will kick start other festivals taking place. Our attendance was
slightly down overall (150) from previous years, but considering the circumstances that was no
surprise, in fact it could have been a lot worse; however, CAMRA attendance was actually increased
on the Friday, compared with previous festivals.

Being a winter festival our attendance does fluctuate from year to year anyway. The festival and
branch Committees will be having a wash-up meeting shortly and I would appreciate any feedback
(email ku.gro.armac.retexe@awof) from staff as well as customers.

Once again a big thanks.

Ray Dwan
Festival Organiser.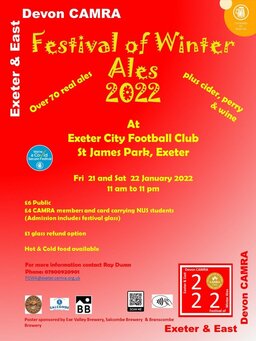 70 beers plus Cider, Perry and Wine
FOWA 2022 Final Programme
FOWA 2022 Final Beer List - Web