Festivals Archive
Past Festivals:
Note: some web links shown may no longer be valid.

4 - 8 May London Inn, Okehampton

Early May bank holiday
Monday 2nd May


Horse & Groom, Bittaford, Spring Beer Festival (20 years celebration)
Sat 30th April – Sun 1st May
Horse & Groom Festival on Plymouth website

14th-18th April, The Blue Anchor, Teignmouth
Easter Beer & Cider Festival
Blue Anchor Festival details

Maltingsfest
Park adjoining Tuckers Maltings, Newton Abbot
Thurs 21st - Sat 23rd April.
More details will be available shortly.
Maltingsfest website
Cask Ales list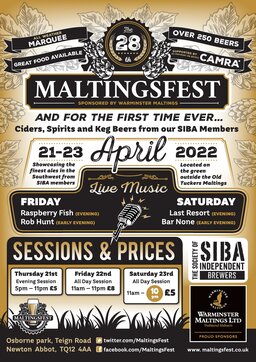 Easter 2022:
Friday 15th April - Mon 18th April


Thurs 31st March - Sun 3rd April, The Thatched House Inn, Exwick
Alepril Beer List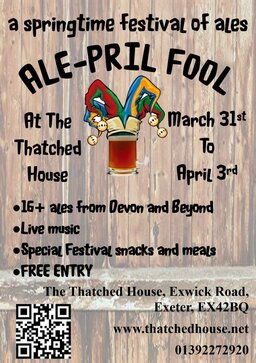 Weds 30th March - Sun 10th April,
JD Wetherspoon pubs
Spring Ale Festival
JDW Spring 2022
(See also Social events Weds 30th)

Yeofest 13, 2020 - now in 2022
Saturday 19th March 2022
Tentative date, event is tbc, watch this space!
Update of 14th Jan: Now postponed until 2023.
There may well be a Yeo!Cider in October this year, 2022.


Ales in the Orangery
23rd-25th February or until sold out, The Imperial, Exeter
Featuring up to 20 Real Ales, all at £1.99/pt.
Ales in the Orangery Feb 2022

CAMRA GBBF Winter
Now Cancelled (or 'Reimagined'; see link for Update)
9th-12th February 2022
Birmingham
CAMRA GBBF Winter 2022


Tewkesbury Winter Ales Festival (TWAF) 2022
3rd, 4th and 5th February.
Update 9/1/22: Festival Cancelled, see link for announcement.
TWAF 2022


Dorchester 33rd BEEREX
Fri 4th-Sat 5th February
Dorchester Corn Exchange
Lunchtime and Evening timed Sessions
Beerex 2022 Beer & Cider List
Beerex 2022 Press Release
Beerex 2022 Website
Update 04/01/22: 2nd batch of tickets now released.

Exeter & East Devon CAMRA
Festival of Winter Ales (FOWA) 2022
Fri-Sat 21st-22nd January 2022, 11am - 11pm
Exeter City Football Club
70 beers plus Cider, Perry and Wine
Entrance:
Public £6 (includes festival glass),
CAMRA £4 (includes festival glass),
NUS Students £4 (includes festival glass)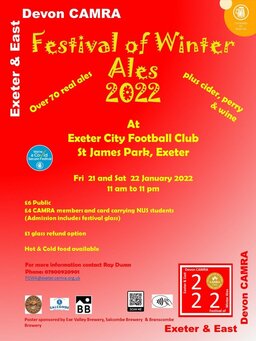 FOWA 2022 Final Programme
FOWA 2022 Final Beer List - Web
Please see our FOWA 2022 COVID Mitigation Measures

Visitors are politely requested to:
- Only attend the Festival if fully Vaccinated;
- Take a LFT on the morning of visiting, and only attend if result negative;
- Wear a Face covering at all times when not seated.


Imperial-e Festiv-Ale
14th-17th December or until sold out, The Imperial, Exeter
Featuring 20 Real Ales, a festive mix of local and
national Christmas beers and Winter Warmers!
Festiv-Ale Beer List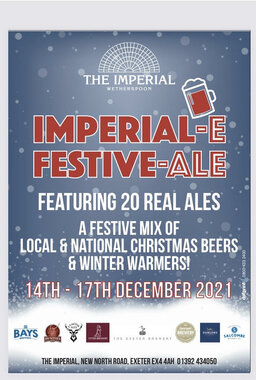 A Tribute to Local Ales
Featuring 12 local ales and live music to mark
what would normally be the beerfest weekend
Queen's Arms, Brixham
Sat-Sun 4th-5th Dec.
Live bands on Saturday afternoon, 3pm - 5pm: The House Band
6pm - 8pm: Guest Band, 9pm - 11pm: Still Life
plus lots of your favourite local ales .
Queen's Arms - Beer Festival


St Austell Brewery - Celtic Festival
Saturday 27th November 2021
Setback for fans of beer festival as iconic event is axed again
"We're hugely disappointed but we will still be celebrating what would have been
our 23rd festival – on Saturday 27th November – in other ways. Watch this space."


MXV (Maltings X Vessel) Craft Beer Festival
Tuckers Maltings
Fri 12th-Sat 13th November 2021
Festival Website and TICKETING


Real Ale Festival, JD Wetherspoons, nationwide
20th-31st October
The Imperial, Exeter, is notable in having all Festival beers
available from Day 1.
JDW Beer Festival Oct 2021 JDW Tasting notes Oct 2021
JDW Festival Article
Falmouth Real Ale & Cider Trails
11th-24th October 2021,
See link for details.


Thatched House Inn, Exwick
Autumn Beer Festival
30th of September to 3rd of October.
16 real ales showcasing Devon Breweries with
a few guests from further afield. Special Festival homemade snacks.
Live music on Friday and Saturday Night
and Special Quiz on Sunday!
Festival web page inc. Beer list


The Bay Horse, Totnes
EQUINOX: The music returns
4 nights, 4 acts, 8 Beers and 8 Ciders
Note: From opening time at 3:30pm
23rd-26th September
Festival webpage and Music, Beer & Cider list


The 20th Wedmore Real Ale Festival
10th–12th September 2021
Glebe Field, Manor Lane, Wedmore, BS28 4EQ
Wedmore Beer Festival Website
Festival Drinks List


August Bank Holiday weekend festivals:

Cannon Inn, Newton Poppleford
August Beer & Cider Festival inc. Hog Roast
Festival Beer & Cider List

Devon Diesel Society's 30th STAVERTON BEER FESTIVAL
Staverton Station, Fri 28th-Mon 30th August
Festival Poster
Festival Beer List
South Devon Railway timetable info

'Knock Out' Beer Festival, Fri 28th-Mon 30th
New Lion Brewery, Meadowbrook, Shinners Bridge, Dartington, TQ9 6JD
Knock Out Beer Festival Website
The above two festivals are a 25-minute walk apart :-)

SUMMER REAL ALE FESTIVAL - A date for your diary! at Thatched House Inn, Exwick
From 29th of July until 1st of August:
Showcasing real ales from our local brewers in Devon
and a few special guests from further afield.